I'm back. Sorry about the wait.
For the Dec., 1966, issue, I've decided to highlight Sanpei Shirato's 36-page three-part short "War". This one originally appeared in
Shonen Gaho
in March, 1963. Click on the image to go to the media fire album.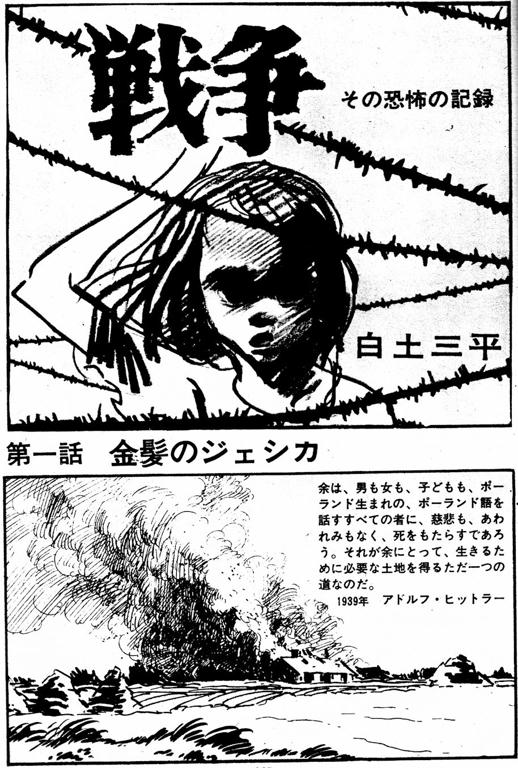 In the first part, the German army overtakes a Polish village and shoots everyone related to the resistance. A young girl tries to escape and falls into a hole in the snow, next to a pistol dropped by one of the victims. A German soldier spies her, and she instinctively shoots him in the chest. He lands on her, collapsing the hole so that no one else sees her. Later, the Russian army liberates the town, and a Russian soldier tries to befriend her, only to be shot in the chest before she runs away again.
In part 2, the German air force drops bombs on a village, and one of the bombs fails to go off. A demolitions team is brought into defuse it, but they bobble the ordinance and it falls over. They discover that it's filled with sand. When the German army invades the town later, the villagers are convinced that the soldiers are running low on ammo, and don't put up a fight when lined up in front of the firing squad. The narrator informs us that the Germans used this trick to make it easier to take over villages.
In the last part, a Japanese husband at home is talking to his wife and children over dinner. We learn that he can't eat raw meat for some reason. The next day, he and his two sons go out to visit a zoo, and they stop at a sushi restaurant for a quick meal. The father isn't paying attention and pops a piece of sushi in his mouth. Realizing what he'd done, he runs out to the street to throw up and is hit by a car. He flashes back to when he was a soldier during WW II on an island when the Americans bombed it. Only he and one fellow soldier survived the air raid, but there's nothing to eat on the island and they start to starve to death. The friend gets desperate and attacks the father, but is killed himself in the fighting. The father tries to eat the friend raw and can't bring himself to do it. He stumbles away, only to discover an emaciated woman hiding in a house. The scene skips to where the father now has a full belly, but he walks into an American patrol sweeping the island and he gets shot before being taken prisoner. He then wakes up in the hospital with his wife and kids. He pretends to be happy but is now riddled with guilt over his recovered memories.