For the
June, '68
issue, I'm highlighting:
Seiichi Hayashi's - Red Dragonfly
Yoshiharu Tsuge's - Ben-san of Honyara Grotto
赤とんぼ (Red Dragonfly)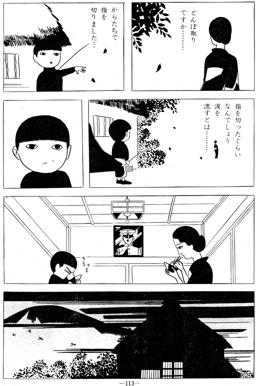 This is another semi-surreal story from Seiichi. In this one, a young boy lives with his mother, catching dragonflies and getting his fingers scrapped up, with her largely ignoring him. At one point, it looks like the boy's grandfather has dropped by, and they play soldiers for a while. But, the boy sees the old man along with his mother, and she's crying. In the last panel, the boy encounters the shadowy old man (we never see his face) and there's just the sound effect of a gun shot.
ほんやら洞のべんさん (Ben-san of Honyara Grotto)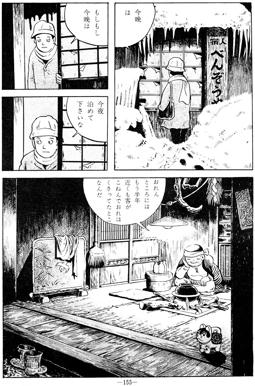 Tsuge is continuing his travels, and comes to a remote hostel out in the snow-covered mountains of Honyara Grotto. The owner of the hut, Ben, hasn't had lodgers in years and doesn't know what to do with this unannounced customer. Tsuge talks him into sharing what little food there is, then breaking out some futons to sleep on. The next morning, they go out on the ice to fish, but instead of using the net to catch some river fish, Tsuge just stands with his eyes closed and listening to the sounds around him. Ben prepares to go into town to get supplies until Tsuge says that he's not staying any longer - he just wanted to drop by and see the area for the night. Neither of them has much ambition in life at the moment, although Tsuge does state that he's working as an artist. However, when asked to draw something, he can't.
They go out to do some night fishing and a small girl suddenly shows up. Turns out that Ben is her father, and that Ben and his wife have separated. The girl is part of a children's group out to sing songs in the winter night to attract swallows for the coming spring. Ben and Tsuge catch a large carp that's worth a few hundred dollars on the market, and Ben takes it farther up the hill to a different pond to swim in. Unfortunately, they waste too much time and when they get to the pond the fish is frozen like a rock. Back in the cabin, Tsuge asks if a fish like that tastes like it's worth a few hundred dollars. Ben remains silent and curls away from the plate the fish is on.