I'm not really running anything by Seiichi Hayashi this time, even though this is a special issue dedicated to him. In part it's because a lot of the stories in this issue are from the
Red-Colored Elegy
series, which has already been translated into English by
Drawn & Quarterly
, and in part because some of the material won't play well in front of children. That, and I'm not really a fan of his later works.
For the
Feb., '70
issue, I'm highlighting:
Susumu Katsumata's - Nostalgic Melody
なつかしのメロディ (Nostalgic Melody)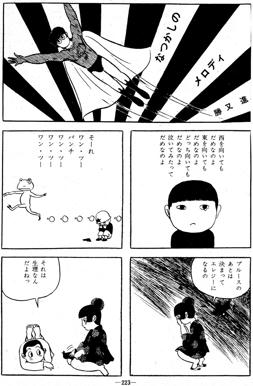 Susumu copies Hayashi's style to highlight the majority of his characters, with no real story.